Springs Eternal Project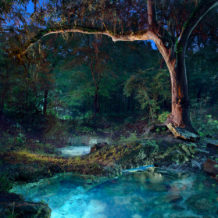 Our Water, Our Future
The
Springs Eternal
Project
is an evolving series of creative partnerships initiated by Lesley Gamble, John Moran and Rick Kilby in collaboration with a diverse community of springs scientists, researchers, artists and advocates. Our goal is to work across traditional institutional and cultural divides in order to understand how and why the health and flow of our springs are in serious decline, and to inspire Floridians to work together to ensure timely and effective solutions that benefit everyone, including future generations.
The
Springs Eternal
Project
is a celebration of the springs we were given, a meditation on the springs we could lose, and an invitation to the people of Florida to fall in love with our springs all over again, mindful that the choices we make today foretell the Florida of tomorrow.
Please click on links in the menu bar to find out more about each of the current projects.
Springs Eternal: Florida's Fragile Fountains of Youth
documents thirty years of acclaimed Florida nature photographer John Moran's forays to the springs, chronicling their beauty, the diversity of people who love them, and the changes many of us have seen.
Springs Eternal
runs from March to December 15th at the Florida Museum of Natural History in Gainesville, Florida, before moving on to other venues statewide.
Also debuting at the Florida Museum of Natural History, Rick Kilby's
Finding the Fountain of Youth: Exploring the Myth of Florida's Magical Waters
examines how the legend of Ponce de León's quest for restorative waters shaped the Sunshine State's image as a land of fantasy, rejuvenation, and magical spring-fed waters. Rich in images, this exhibition is based on an upcoming
book by Rick Kilby
, published by the University Press of Florida. It shows how the myths surrounding the discovery of "La Florida" influenced perceptions of the state that still echo today.
Urban Aquifer
, created by Lesley Gamble, is a real-time performance artwork and ongoing public service event that "daylights" the aquifer under our feet, reaching out to people who may never have visited a museum or a spring. Wrapped in large-scale photographs of the springs, Regional Transit System buses flow through our urban conduits as a metaphoric aquifer, the lifeblood of our region. QR barcodes on the buses link viewers directly to the
Springs Eternal website
, which offers a wealth of information about springs featured in the exhibition, including news, science, history and public policy, as well as groups and organizations involved in springs research, education, advocacy and restoration.
Providing opportunities for insight, wonder and delight, the Springs Eternal Project transports the springs to the forefront of daily public consciousness, empowering Floridians to make good choices for our water– and our future.