The Garey Lab Page
---
Welcome to the website for the research laboratory of Dr. Jim Garey in the Department of Cell Biology, Microbiology and Molecular Biology at the University of South Florida. My laboratory focuses on using molecular and morphological tools to study biodiversity in underwater coastal caves, vents and sinkholes as well as inland soils worldwide. Earlier work in my lab focused on molecular phylogeny of the animal kingdom.
Coastal Underwater Cave and Karst Biodiversity
(Note: If you are a cave certified diver with a B.S. in Biology and interested in graduate school, please contact Dr. Garey)
We have been studying the biodiversity and environments of cave and karst systems in Florida for the past decade. We are carrying out a long term study of an offshore sinkhole in the Gulf of Mexico known as Jewfish Sink.This sinkhole is 1 km offshore and appears as an 5 meter opening in the shallow rocky bottom of the Gulf of Mexico. The opening is approximately 2 meters below the surface of the Gulf, and continues to a depth of 65 meters and the sink widens to about 30 meters. At one time it had a direct connection to the Floridan aquifer and was an active submarine freshwater spring. In 1962, during a drought and after an extensive citrus industry was established onshore, the spring ceased flowing and became an anaerobic marine basin that becomes stratified and has limited connectivity with the Gulf above. This work was carried out primarily by a former graduate student, Michael Garman. We have studied the biogeochemical changes that occur seasonally (Garmen et al., 2005) and surveyed the biodiversity in and around the sink using our Molecular Profiling method as well as more conventional morphological evaluations (Garman et al. 2011). Haydn Rubelmann, a PhD student in my lab is continuing this work, focusing on changes to the bacterial community that drive the seasonal changes in biogeochemistry. Several years ago, another PhD student, Damian Menning and I began to study an active coastal spring named Double Keyhole Spring, located in a salt marsh near Jewfish Sink. This is a brackish spring that is still flowing, but at high tide, the flow often reverses, bringing Gulf water into the Floridan Aquifer, demonstrating the consequences of aquifer overuse that leads to salt water intrusion and could be a mechanism for Gulf oil spills to contaminate the onshore aquifer. We are studying the hydrogeology and biogeochemistry of the system, as well as the biodiversity of bacteria and microbial eukaryotes in the water column and the sediment within the cave. All of this work has involved extensive cave diving. You can get an idea of what this is like by viewing this >>>>
video
<<<< of the Double Keyhole project.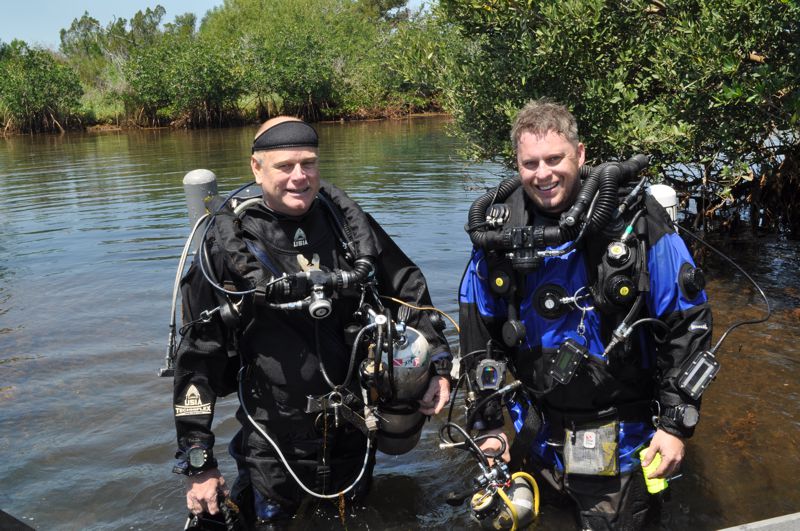 Dr. Jim Garey with graduate student Damian Menning at Double Keyhole cave in Florida.